Concert Schedule Our Catalog Publicity Materials Songwriting Tutorial Send Us Mail
<![if !supportEmptyParas]> <![endif]>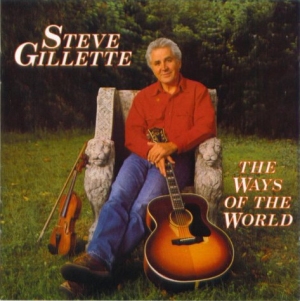 The Ways of the World / Steve Gillette
An album of twelve of Steve Gillette's best original songs, produced in Nashville by Jim Rooney and featuring Stuart Duncan (fiddle), Mark Schatz (bass), Roy Huskey, Jr. (bass), Mark Howard (guitar), Kenny Malone (percussion) and Cindy Mangsen (harmony vocals).
The River * Grapes on the Vine * Bed of Roses * Heartland *Healing Hands * Share Me With Texas * La Guitarra * The Old Trail * A Little Bit of Solitude * The Ways of the World * So Close * Always a Train in My Dreams
CD (Compass Rose, CRM-4)
Click here to order online (CD or download), and listen to clips

All the CDs and books are $15.00 and all the cassettes are $10.00 Please add $3.00 to the total to cover shipping and handling. Let us know if you would like an autograph.
Please make check for total amount payable to:
Compass Rose Music * Post Office Box 1501 * Bennington,VT 05201


__Return to Steve & Cindy's Home Page
<![if !supportEmptyParas]> <![endif]>