Concert Schedule Our Catalog Publicity Materials Songwriting Tutorial Send Us Mail
<![if !supportEmptyParas]> <![endif]>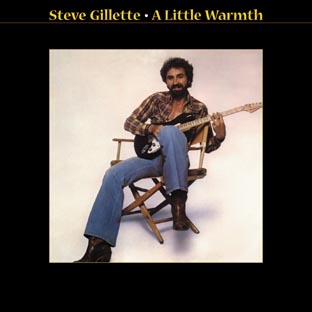 A Little Warmth / Steve Gillette
Produced by Graham Nash in 1976 this album is wonderfully remastered and now available as a CD.
The new version contains two songs not included on the original LP.

A sparkling example of the folk-rock era's infatuation with the Nashville tradition.

Featured performers include David Lindley, Johnny Barbata, Pete Sears, Chris Ethridge, Graham Nash, Hank DeVito and others too numerous to mention.

Includes the chart single, "Lost the Good Thing We Had" a duet with Jennifer Warnes.

Sweet Melinda, * A Little Warmth * Lost the Good Thing We Had * Babe, Oh Babe * You'll Never Be the Same * Holdin' On to Nothing * The Arms of Mary * Ships That Pass In the Night * She's Not You * Three Lines * I Believed In You * To Be Good Friends
CD only, (Compass Rose
CRM-9)

All the CDs and books are $15.00 and all the cassettes are $10.00 Please add $3.00 to the total to cover shipping and handling. Let us know if you would like an autograph.
Please make check for total amount payable to:
Compass Rose Music * Post Office Box 1501 * Bennington,VT 05201


__Return to Steve & Cindy's Home Page
<![if !supportEmptyParas]> <![endif]>