<![if !supportEmptyParas]> <![endif]>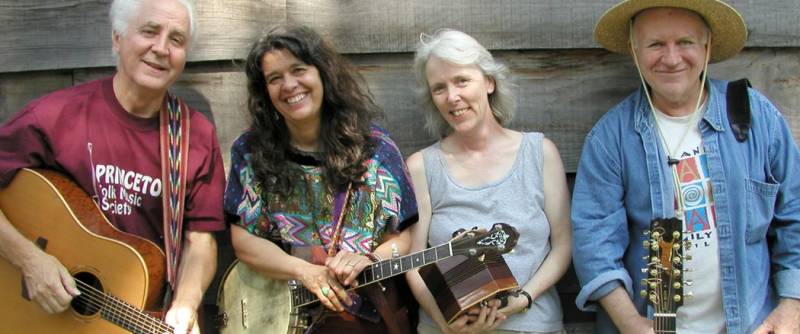 Steve Gillette, Anne Hills, Cindy Mangsen, Michael Smith
Fourtold: The Group & The CD



Fourtold: Together for Great stories & Great harmony
www.fourtold.com

To order the Fourtold CD, click here.
Fourtold was a group of performers who have won awards around the country for their separate work, claiming dozens of acknowledgments between them.
Drawing from original, contemporary, and traditional folk music the members of Fourtold - Steve Gillette, Anne Hills, Cindy Mangsen and Michael Smith - have brought their rich musical talents together for a special project that celebrates both compelling four-part harmony and story songs. With a diverse collection of material that tells of times past, present and yet to be, they build a set that is powerful lyrically and melodically. Fourtold was a mini-festival in the making, with four solo artists for workshops and a new act for the big stage, all in one.
Here are a few brief words about each of the artists in Fourtold, for those who might not have had the pleasure of hearing them.

Steve Gillette
(www.SteveGillette.com)
Since Ian & Sylvia first recorded Darcy Farrow, Steve Gillette's compositions have been sung by dozens of folk and country artists including Garth Brooks, John Denver, Anne Murray, and Linda Ronstadt. He is author of the book Songwriting And The Creative Process (Sing Out! Publications) and is a veteran songwriting teacher. Steve is also known for his warm baritone voice and intricate guitar style.
Gillette has been writing terse, elegant and utterly time-defying story-songs for three decades. If you don't know him, you're missing one of the masters." - Roy Kasten, The Riverfront Times, St. Louis
Steve's 25 year career has seen his songs recorded successfully by many a distinguished artist; small wonder as he's a legendary songwriter ... blending folk and country pop which makes you hang on every word with rapt attention. - Folk Roots Magazine

Anne Hills
(www.annehills.com)
Anne Hills was known first for her voice, then her writing, and finally for her continuing collaborative work as both a performer and a songwriter. She has duet albums with Tom Paxton, Michael Smith, and Cindy Mangsen. She has written with these great writers among others, including Peter Erskine (the infamous jazz drummer), David Roth (Omega favorite) and Jay Ansill (celtic harpist).
A singer of superb vocal purity ... she gives songs a life of their own. Anne Hills could sing the week's cable listings and make them sound marvelous." - Martin Keller, St. Paul Press
On her new album Bittersweet Street Anne proves that her writing is as strong and beautiful as her voice." - Friday Morning Quarterback

Cindy Mangsen
(www.compassrosemusic.com)
Cindy Mangsen is well-known in the folk music world as a singer of traditional ballads, as well as an interpreter of contemporary classics and original songs. Her solo album Songlines was chosen as one of 1994's Top Ten Folk Albums by the Boston Globe. She also sings in a duo with husband Steve Gillette, and in a trio with Priscilla Herdman and Anne Hills. She accompanies her rich alto with guitar or English concertina.
Mangsen delivers songs with an angel's voice. It is at once clear, clean, plaintive, and touched with a Baez-like vibrato." - Chicago Tribune
Cindy is one of the finest pure ballad singers in folk today, a wondrously clear and honest vocalist." - The Boston Globe

Michael Smith
(www.artistsofnote.com)
Michael Smith's songs have been covered by dozens of other musicians, and his song The Dutchman has become a folk classic. Michael has also written music for theater, notably the Tony award-winning Steppenwolf Theater production of The Grapes of Wrath. He is a riveting solo performer, and also sings with the quartet Weavermania..
"Michael Smith stands out as one of the few undisputed geniuses among singer-songwriters." - Sing Out! Magazine
"Hearing the songs of Michael Smith in this day and age is like reading an anthology of short stories by Hemingway after decades of only comic books." - SongTalk (National Association of Songwriters)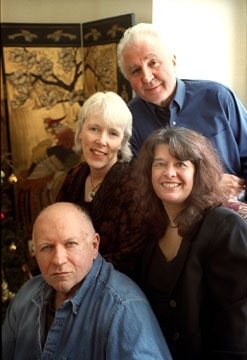 (CD Appleseed Recordings, APR CD 1071, ©2003)
To order the Fourtold CD, click here.
Contact:
Cindy Mangsen,
PO Box 1501, Bennington, VT 05201
(802) 442-6846
cindymangsen@comcast.net



__Return to Steve & Cindy's Home Page