Steve Gillette - The Man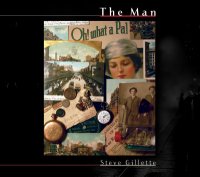 Steve Gillette's latest CD:
Midway between Huckleberry Finn and Holden Caulfield, Danny Murrow confronts coming of age in the early days of the jazz era. From battered street-waif to celebrated guitar savant our hero endures and abides in "The Man," newly released by Steve Gillette and Compass Rose Music. Assisted by a miraculous aggregation of masterful musicians on some newly-roasted chestnuts and a handful of inspired originals, the CD draws from the realms of roots-jazz, folk, and blues; romance and boogie woogie in a time of prohibition.

Track Listing (with RealMedia & MP3 clips)


Look for Free RealPlayer
Visit the About The Man Home Page
©2010-2011 by Compass Rose Music